Wood Holders and Stackers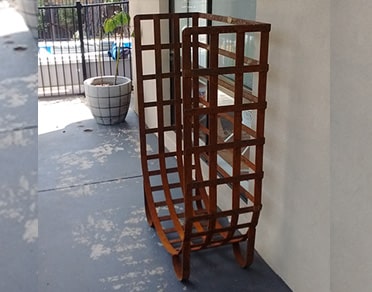 A wood fireplace inside the home is ever so cosy on a cold winter day. Snuggle up with a blanket or toast some marshmallows. A wood fireplace oozes with warmth and visual appeal. The only negative aspect about a wood fire is the mess that wood can create inside the home!
This is where Red Hill Wrought Iron come to the rescue with wrought iron garden and indoor furniture to neatly stack wood away, such as wood holders or wood stackers.
Red Hill Wrought Iron do not believe that one style will fit all – this is why we make wrought iron furniture for your fireplace in a variety of styles and sizes. Be proud to display your firewood in an attractive and stylish wrought iron wood holder – a furniture piece that you will not want to hide away!
Wood holders can be finished in matt black or antique rust. A wood holder will organise wood and give additional storage height. Using a wood stacker will allow each piece of wood to air dry. Stacked wood will be ready to use, as it will not get damp if it is placed in a wood holder. No longer will you need to waste time and effort chopping all that wood that goes to waste with dampness and mould.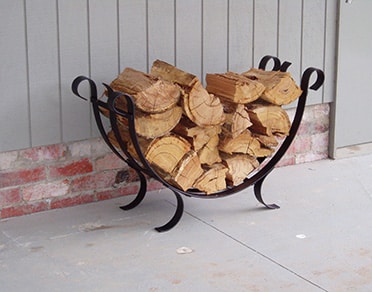 Red Hill Wrought Iron handcraft outdoor and indoor furniture out of heavy gauge metal, ensuring that longevity is experienced with each piece. Add a touch of style to your living space with a wood holder or stacker. More importantly, be gone with untidy mess with there will be no more untidy mess, meaning your family will no longer need to step over pieces of firewood!
Choose to display wood in a wood holder or stacker that is kept inside or outside. Our wrought iron garden and indoor furniture is hand crafted and is suitable for any type of weather condition, be that rain, hail or shine.
YOU ARE WELCOME!
REDHILL WROUGHT IRON
For more information or Enquiry you can call us on
0417 594 088
Or Click On Button Given Below