Garden Obelisks Melbourne
A garden obelisk is an outdoor piece of furniture that can be simply used as a garden feature or to grow roses, or support tomatoes and climbing beans. Additionally, it can make a feature to add height into the garden.
Obelisks were originally made out of stone by the Egyptians. A Red Hill Wrought Iron obelisk is a tall sculpture with four sides, usually with a lattice frame plus metal studs and a metal ball as a finial. Red Hill Wrought Iron offers a range of finials to finish off the garden obelisks Melbourne. They are usually around 2 metres high and have little feet to secure it to the ground. Rivets can also be used to give an obelisk an increased profile. Red Hill Wrought Iron custom make a variety of garden obelisks Melbourne and can ensure that your garden furniture is portable. All that is required to move an obelisk around the garden is to remove the pegs to unsecure the garden furniture, and then secure it back with the pegs once a new place in the garden is determined as the new home for your obelisk.
This outdoor furniture can be secured directly to the ground with the peg holes in the feet or, alternatively, positioned on top of a planter box or another tall feature within the garden to give it an extra prominent position.
A garden obelisk Melbourne is one piece of garden furniture that truly stands out – it can be a centrepiece or a focal point in the garden and can be seen from all different angles.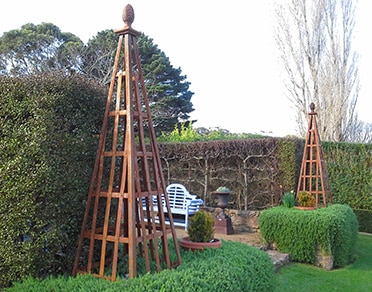 Garden Obelisk Wrought Iron in Melboune
Whether you are looking for wrought iron garden furniture for functional purposes, such as securing roses or growing climbing vegetables, or for a visual effect, Red Hill Wrought Iron will custom make outdoor garden furniture to suit any style of garden.
Our wrought iron furniture can be handcrafted in a variety of styles, sizes and finishes to suit your personal taste and garden setting. Red Hill Wrought Iron only work with heavy gauge metal to give your outdoor garden furniture strength and durability.